Which lawnmower suits your garden? The advantages of different types of lawnmowers at a glance
The private garden is an important oasis of peace for many. Healthy, green lawn, a splendid flowerbed, a small pool: in your own garden, the design options are very diverse. But in order for the lovingly and laboriously designed place of recreation to also look well-groomed, regular care is needed. Above all, the grass should be mowed cleanly at certain intervals. How good that this task can be really fun with the right lawnmower! But finding it is not so easy with the huge selection of lawnmowers. We show you the advantages of the different types of lawnmowers, so that you can decide for yourself whether you should better use the cordless lawnmower, the electric or petrol lawnmower, the robotic mower or the manual lawnmower.
The different types of lawnmowers at a glance
Cordless lawnmower
The Einhell cordless lawnmowers allow you to work wirelessly and with maximum flexibility. When the Power X-Change batteries are charged, the cordless lawnmower is ready for use at any time. Depending on the cutting width and batteries used, the different models are suitable for both large and small lawns. Our battery-powered mowers are currently available with cutting widths between 30 and 47 cm. For large areas, Einhell Twin-Pack technology is used. This combines two 18 V lithium-ion batteries to deliver 36 V power. Incidentally, our GE-CM 36/47 S HW Li cordless lawnmower is even recommended for areas up to 700 m², because it has two additional battery slots. With this double twin-pack technology, as soon as the first two batteries are empty, mowing continues automatically with the help of the additional two batteries.
In addition, the cordless lawnmowers are environmentally friendly, they work without exhaust gases, are very quiet and, compared to petrol lawnmowers, very light in weight and significantly less maintenance. This makes them easier to manoeuvre and, thanks to their compact design, also easier and more space-saving to store.
Petrol lawnmower
You need maximum power for very large lawns? Then a petrol lawnmower is the device for you. The petrol lawnmowers are powered by a powerful 4-stroke engine and thus also prevail against tall and densely grown grass. With cutting widths between 40 and 56 cm, very large areas of up to 2,200 m² can be mowed in no time. The cordless, high-performance devices are very durable with proper care and maintenance. Compared to cordless and electric mowers, petrol-powered lawnmowers are usually a little louder in operation. They also have a higher weight, but, if they are equipped with a wheel drive, they can nevertheless be guided with little expenditure of force.
Electric lawnmower
The electric lawnmower can be found in many smaller gardens. The electric lawnmower is so popular because it operates very quietly and is ready for use at any time, as long as a power connection and an extension cable are available. The lightweight, compact and easy to stow mowers are suitable for gardens of different sizes, depending on the length of the extension cord or available sockets. However, with cutting widths between 30 and 43 cm, they are recommended for areas up to a maximum of 700 m². The only disadvantage of electric lawnmowers is the cable, which can get in the way of more complex gardens with obstacles such as trees or stones. The wireless counterpart to the electric lawnmower would then be a cordless lawnmower.
Manual lawnmower
The undisputed winner in terms of environmental friendliness is probably the manual lawnmower. It is quiet since it operates without a motor or drive and only generates noises due to the movement of the mowing spindle. The manual lawnmower mows extremely cleanly with the help of a ball-bearing mower spindle and high-quality, precision-ground blades. Incidentally, the advantages of a manual lawnmower and cordless mower combined are available in the form of the Einhell cordless spindle mower GE-HM 18/38 Li. Thanks to Power X-Change, you can save your power while working by driving the mower spindle by motor. This produces results suitable for golf turf. Manual lawnmowers are generally recommended for areas up to 250 m², as the mower must be pushed manually by hand. The compact device can be used with or without a catch bag and is therefore perfect for mulching.
Robotic lawnmower
The lawn should always look well maintained, but you don't have time or motivation to mow yourself all the time? A robotic lawnmower will do the job for you. Most of our FREELEXO robotic mowers are small and compact. Depending on how much limiting wire you lay during installation, our robotic mowers can mow lawns of different sizes, even up to 1,200 m². The models differ in their functions and are sometimes even controllable via app. Mowing times can be programmed individually. The robotic mower takes care of the charging itself by driving back into the charging station when the battery level is low. By the way, robotic mowers are always mulch mowers, they distribute the green cut on the lawn. This has the advantage that the lawn is immediately fertilized in a natural way.
These are the questions you should ask yourself when choosing a lawnmower
The range of lawnmowers is huge, and in order to find your way around it, it helps to ask yourself some specific questions. Find out what features and amenities you expect from the device and choose the right model.
What is the size of the area that needs to be mowed?
Depending on which areas you want to mow, you should pay attention to the cutting width and reach. For up to 250 m², for example, manual lawnmowers or electric and cordless lawnmowers with a cutting width of up to 33 cm are recommended. For up to 500 m², electric and cordless models with cutting widths of up to 40 cm are suitable. From 500 m² attention needs to be given to a large cutting width up to about 42 cm and at best reach for the cordless or electric mower. If you want to mow areas larger than 700 m², you can choose electric and cordless mowers with cutting widths from 43 cm. Petrol lawnmowers are recommended for very large gardens. With a cutting width of up to 56 cm, they are also suitable for up to 2,200 m². Our robotic mowers can be used flexibly for small and large gardens from 250 to 1,200 m². The range depends, among other things, on the battery used and on the length of the limiting wire, which you can extend at any time.
What is the condition of the terrain and what is the expected result?
With very dense vegetation, a powerful petrol lawnmower is the device of your choice. In the case of very high grass, however, it may be useful to do preliminary work with a scythe. On hilly, uneven surfaces or on slopes, lighter mowers with battery or electric drive or petrol lawnmowers with wheel drive can be guided more easily. If you want to mow an English lawn suitable for golf lawns, it is best to use the manual lawnmower. If, on the other hand, your lawn is to be presentable and perfectly shortened at all times, you can make your work easier with a robotic lawnmower that takes care of your lawn at regular intervals.
How much time is available to mow the lawn?
Many hobby gardeners find relaxation and meditation when mowing lawns. However, just as many garden owners find it an annoying but nevertheless necessary work for garden care. It's a good thing there are robotic mowers! With our FREELEXO mowing robots, you only have to do the installation work - and the small, hard-working mowing robot takes care of the lawn mowing. Incidentally, you can also place the installation of the robotic mower and the laying of the limiting wire in the hands of professionals by using the Einhell installation service.
If you like to work with your own muscle strength, you can also use the manual lawnmower. It is pushed through the garden by hand and thus emission-free. The mowing spindle cuts the blades of grass very precisely and gently.
Depending on the cutting width, cordless and electric lawnmowers are suitable for gardens up to 700 m². In general, the following applies: The more cutting width, the faster you can mow a surface.
Practical additional functions and equipment
Mulch function: To spread the green cut on the lawn for natural fertilization
E-Start: For easy starting of petrol lawnmowers with battery support
Level indicator in the grass catcher bag: Always recognizable when the next emptying becomes necessary
Wheel drive: As a support for easier guidance of the lawnmower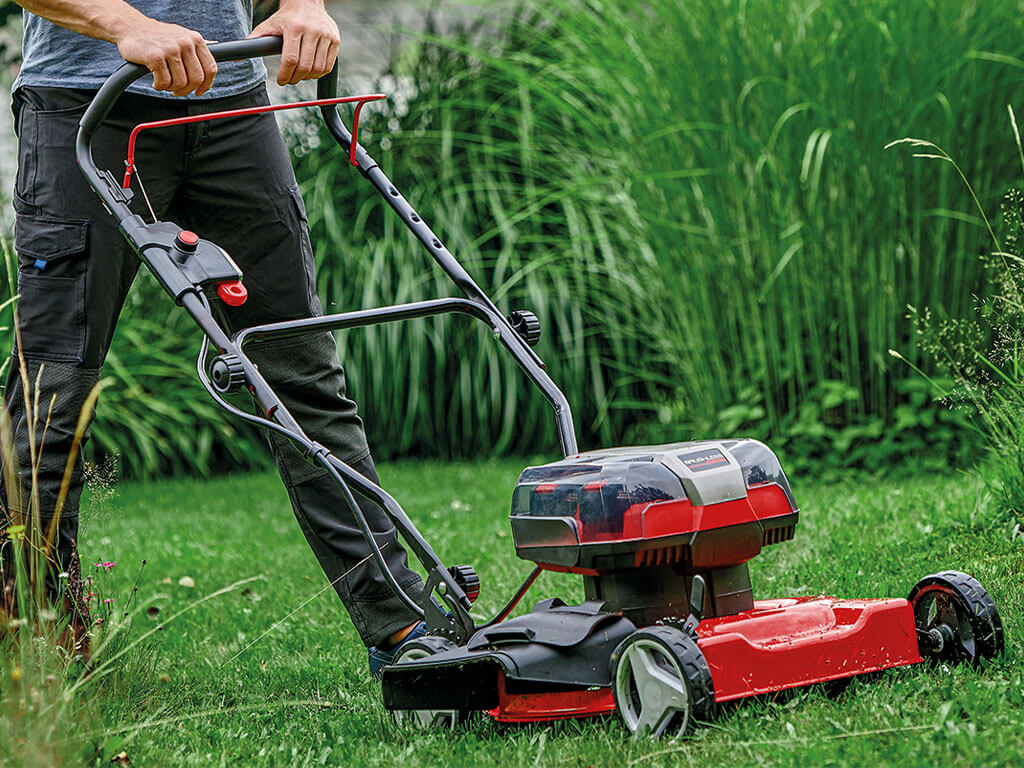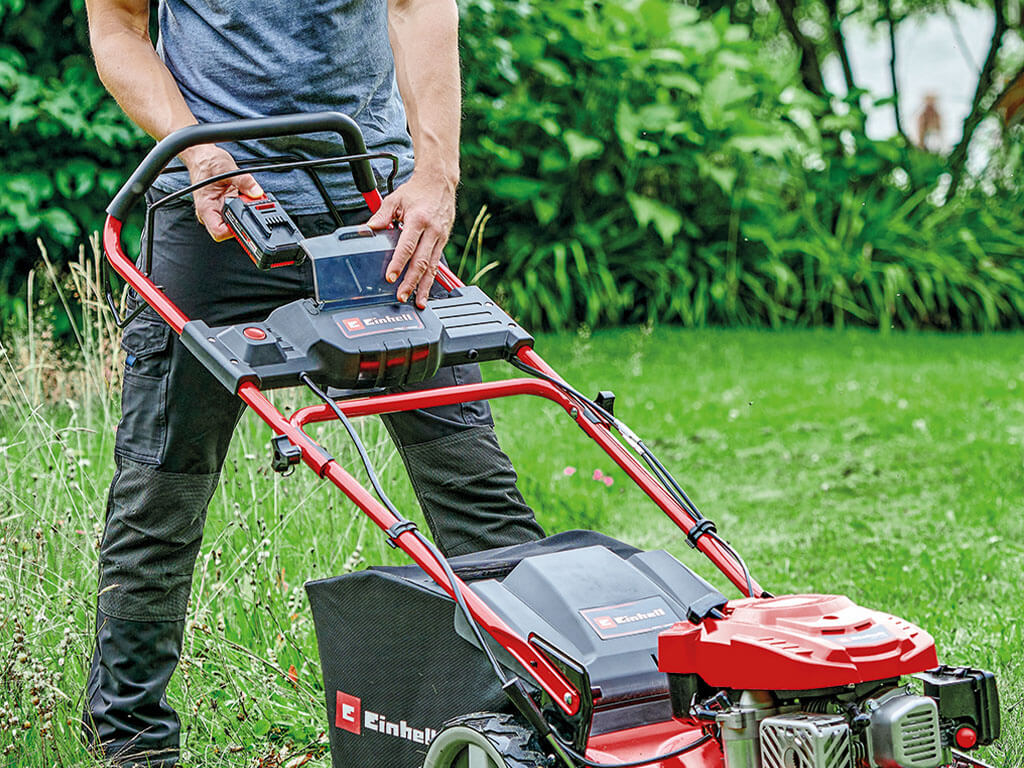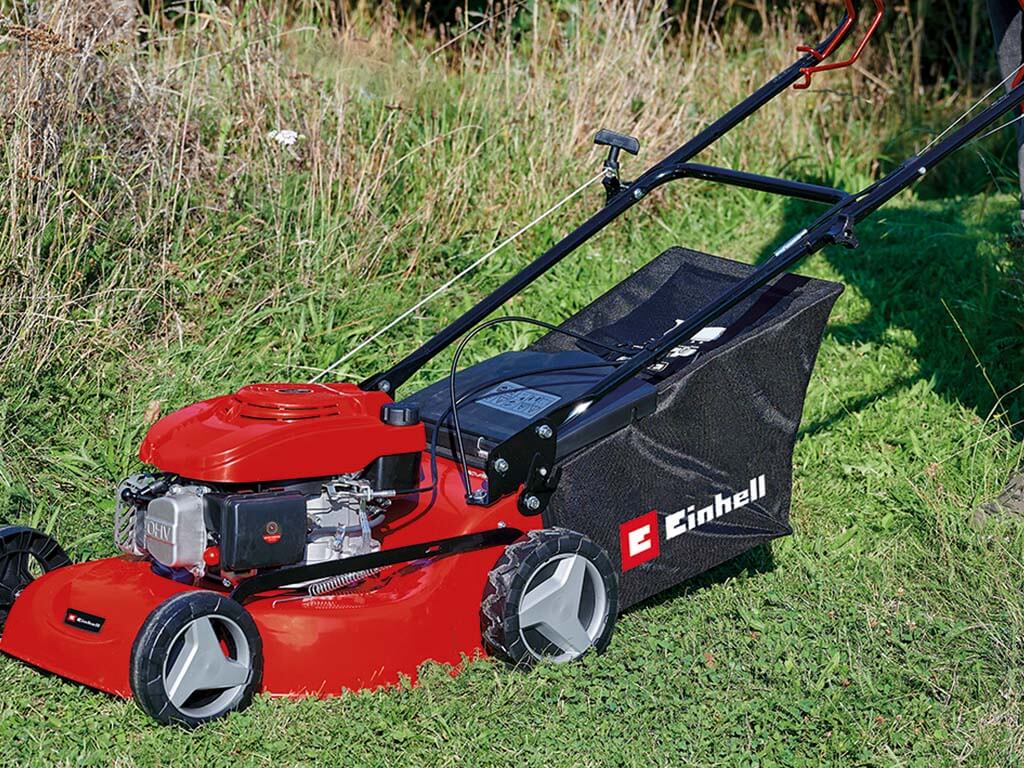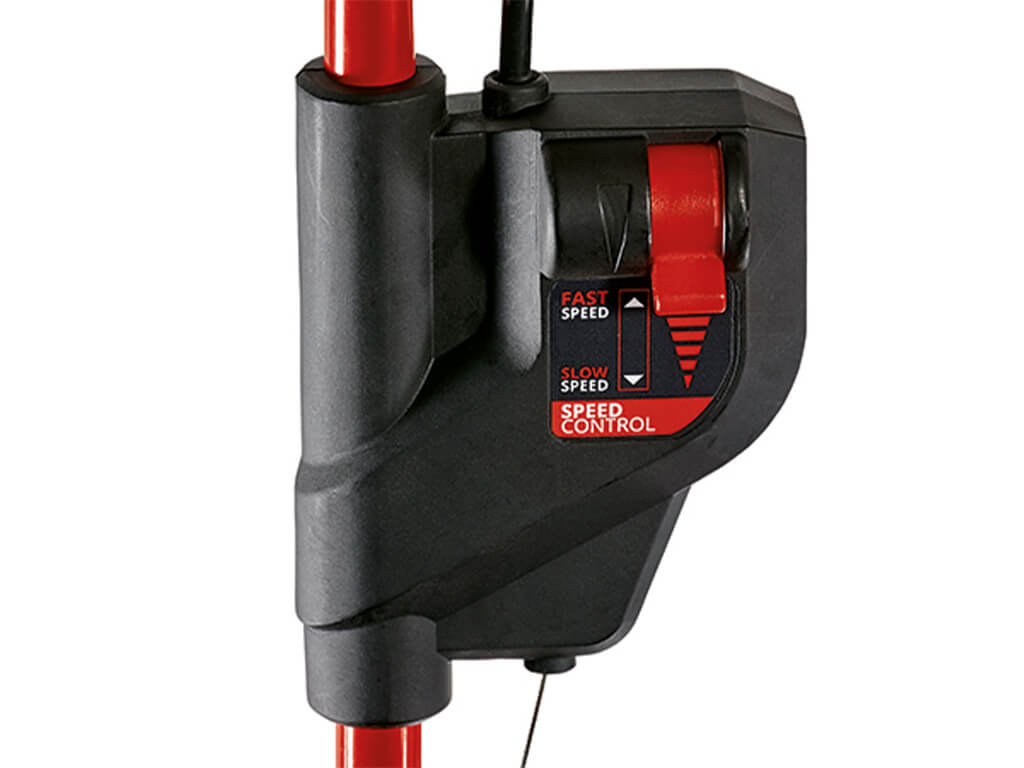 Summary: Various Lawnmowers - Various Characteristics
With the diverse selection of lawnmowers, you can probably find the right device for every garden. Petrol lawnmowers are the experts in terms of performance, they also mow very large lawns and dense vegetation thanks to their powerful 4-stroke engines. Manual lawnmowers are emission-free and suitable for very small gardens, with which precise mowing and even golf lawn-compatible results can be achieved. Environmentally friendly and quiet you work with an electric lawnmower, which is mainly found in smaller gardens. Also very quiet and environmentally conscious, but above all wireless and maximum flexibility, you can work with a cordless lawnmower, which is even recommended for large areas up to 700 m². Completely without own effort, apart from the unique installation work, a mowing robot rotates its rounds, so that the lawn always remains in perfect condition.
In this article you will learn all about: